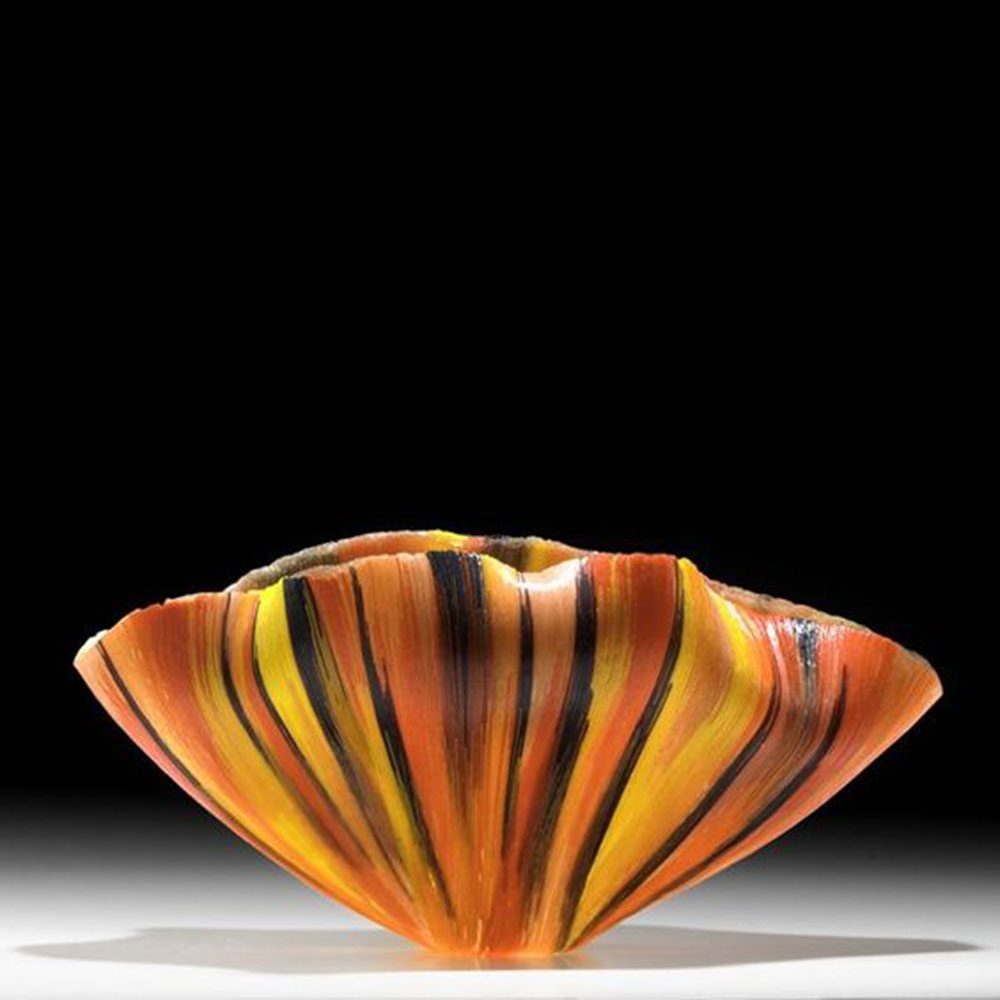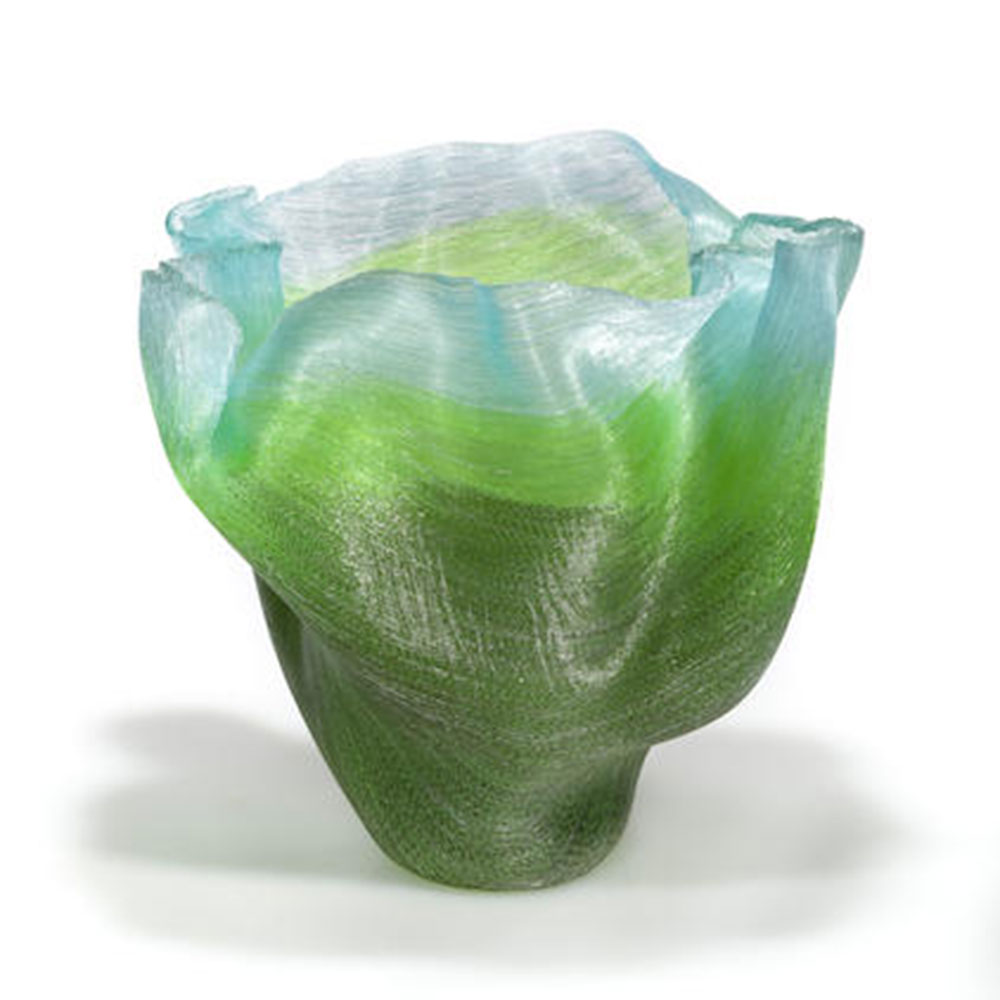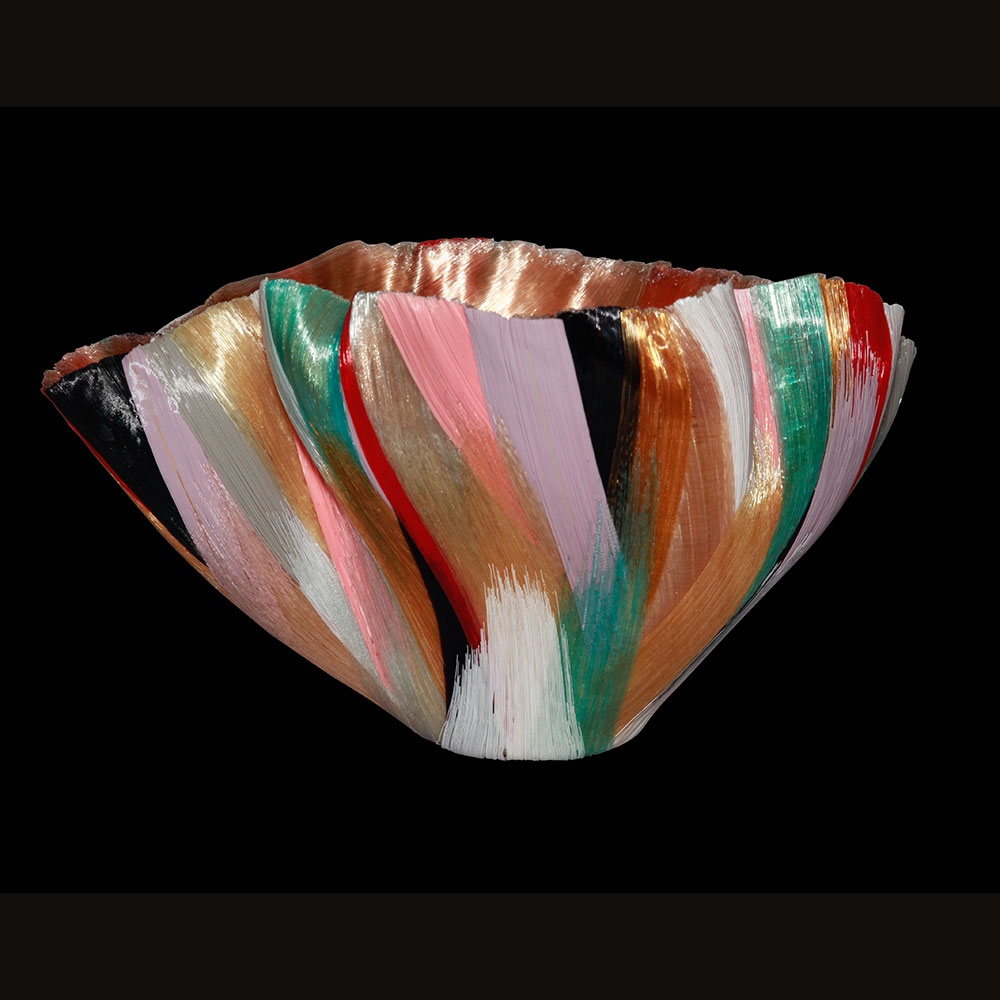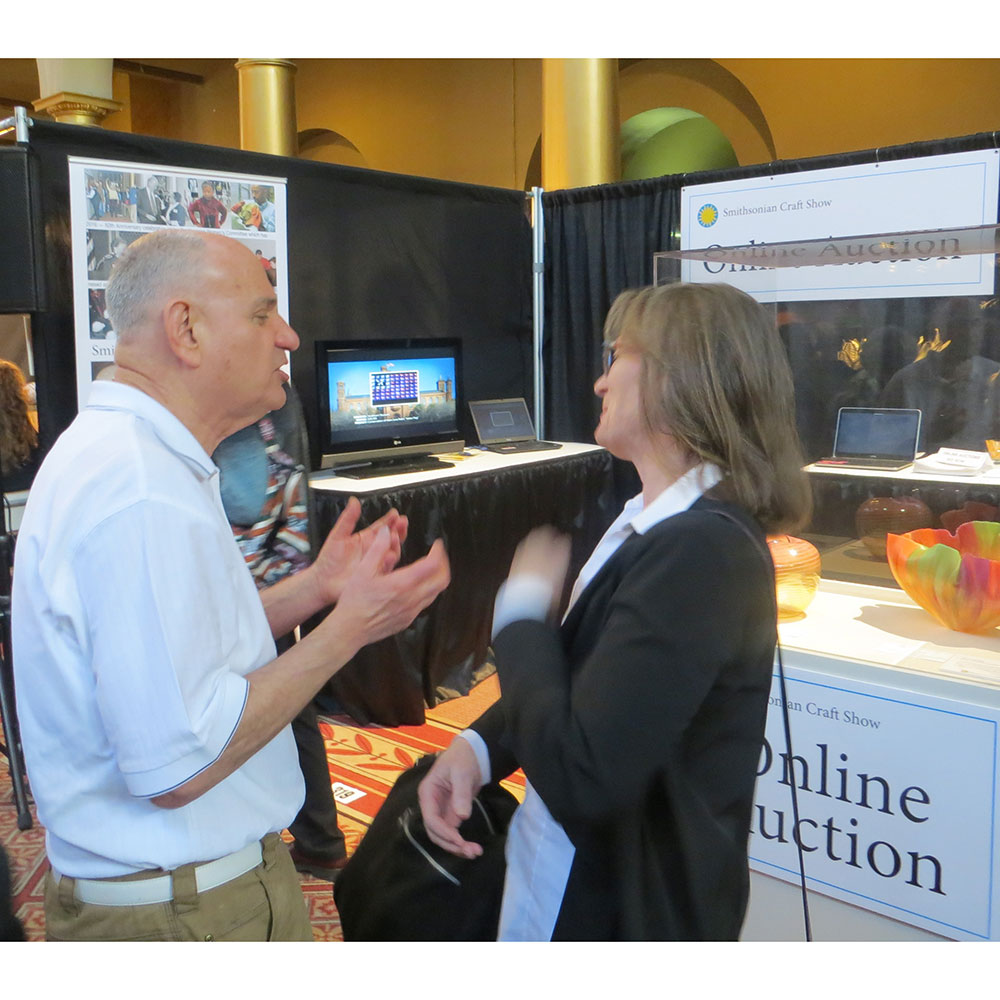 Toots Zynsky pioneered a technique for weaving thousands of fine glass threads into undulating shapes which she calls filet de verre. Her preference for vibrant, opaque glass creates a painterly use of color. "It's really like painting", says Toots. "It is an identical thought process – the way you build up a painting or drawing."
Toots arranges the colored strands of glass into disks which are molded and slumped into vessels during multiple kiln firings. Toots then tugs, twists and squeezes her rhythmic  shapes into sinuous and sensuous forms which resemble shells, flowers or unfurling fabrics.
In her experimental use of color, Toots has been influenced by her love of music and dance. In her words, "When I hear music, it translates into color". She strives to create a synthesis of sound and color in her work with subtle movements and variations. In 1984, she was deeply influenced by her 6 month research project to record the living music of Ghana, West Africa. There she fell in love with the patterns and saturated colors of the region's Kente textiles.  Kente, meaning "basket cloth", is hand-woven silk fabric which was originally worn by Akan kings and the names, colors and patterns are all highly symbolic. Some of her striated opalescent designs reflect all the colors of the rainbow, while others use a more concentrated and potent monochrome palette.
Toots Zynksky was a seminal figure in the Studio Glass movement during the 1970s. Her verve and passion for the medium was ignited at the pioneering Rhode Island School of Design where she was taught by Chihuly. She was active in the early development of the Pilchuck Glass school and Urban Glass in New York.  In her words, "Glassmaking was wide open, hot glass slipped through the air, pulled and stretched. There was music and the furnaces were roaring… and everyone was working in concert. Everything was possible, and there was so much to be discovered. There were no rules, you could do anything you wanted to."
Toots took a break from glass-making to explore other materials that didn't require a hot-shop and she lived in Europe for nearly two decades. Since returning to the USA in 1999, she has become one of the country's leading glass artists. In 2015, she received the Visionary Award from the Smithsonian Women's Committee and she officiated at the 2016 Smithsonian Craft show where Chihuly was honored. Arthur Wiener and Louise Irvine enjoyed meeting Toots on this occasion when WMODA presented the Macchia forest as the centerpiece of the National Building Museum. Recently Toots was able to diversify her repertoire of techniques and expand her understanding of materials material at a specialty residency at the Corning Museum of Glass.