Welcome
WMODA is open again. We invite you to enjoy our amazing collections and experience the inspirational power of the fired arts.
Please review our Safety Protocols prior to visiting.
Call 954.376.6690 or Email info@wmoda.com
Hours
Tuesday - Saturday
10:00am - 4:00pm
Location
481 South Federal Hwy
Second Floor
Dania Beach, FL 33004
Phone: 954.376.6690
Sign up for Through the Looking Glass, our monthly e-news letter, to be notified of featured articles, artists, and promotions.
SIGN UP NOW
Visit Virtually
If you cannot visit WMODA in person, let us continue to fire your imaginations virtually on our 360 tour. Take the tour.
You can also view our Curator's Choice video series where Louise Irvine, Executive Director & Curator, talks about key pieces in the collection. Watch the first video.
You can enjoy curated highlights and stories about WMODA in our complimentary monthly e-newsletter Through the Looking Glass. Sign up
Follow us on Facebook @wmodamuseum and Instagram #wmodamuseum for the latest news.
01

Oct

"One shoe can change your life." – Cinderella Strut into WMODA to see Stern's Stilettos, a fabulous exhibition of glass shoes by Miami artist, Rob Stern. The

Read more

30

Sep

Safari Dance A Celebration of Ardmore Ceramic Art & Design Dance with elephants in this fabulous fantasy exhibition of Ardmore Ceramic Art and Design from

Read more

30

Sep

The Fire & Soul exhibit at WMODA is guaranteed to keep you on your toes! Anna Pavlova's dying white swan of classical ballet was reborn

Read more

14

Sep

Go wild at WMODA this season! Explore the animal kingdom at the Big Five Safari exhibition and have fun tracking the African animals through the

Read more

25

May

A Safari for the Soul is a journey of the imagination through the wild and wonderful world of Ardmore Ceramic Art. Imagine yourself riding one of Ardmore's exotic

Read more

26

Mar

Celebrate the beauty of nature in the Fired Arts at the latest exhibition at the Wiener Museum of Decorative Arts. The new show, which opened

Read more

18

Feb

Visitors are star-struck with the new installation of Windstars by Rob Stern at WMODA. Rob is known particularly for his star sculptures, which are dedicated

Read more

05

Jan

By Louise Irvine Dale Chihuly is arguably the most famous glass artist in the world. His name draws vast crowds to site-specific glass installations across

Read more

14

Oct

In a career that has spanned more than 50 years, Paul Stankard has become the acknowledged master of flame-working. See the stunning Paul J. Stankard

Read more

12

Sep

Fantastique celebrates the enchanted world of ceramic art. From myths and monsters to fairies and fables, you will be spellbound by the flights of fancy

Read more

19

Dec

It's party time at the Wiener Museum of Decorative Arts as we celebrate the art of having fun at our entertaining exhibition Carnival & Cabaret. The flamboyant

Read more

13

Dec

Elegant china enriches the tea-drinking experience as can be seen at the Art of Tea exhibition at WMODA. Discover how skilled potters have provided the

Read more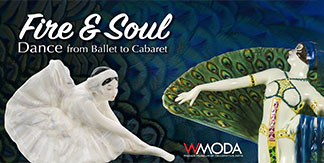 Fire & Soul @ WMODA Saturday, October 30 10am to 4pm Join us on Saturday, October 30 to celebrate Halloween and experience the joy of dance as portrayed by European and African ceramic artists.
Highlights from our newsletter
You have got to make time to go!!!
The place is absolutely mind-blowing!

JB Berkow, Founder & President
Benzaiten Center for Creative Arts

Thank you! A fantastic collection.

Anne Forschler-Tarrasch
Birmingham Museum of Art

This museum is a hidden treasure
We are both in awe of the displays.

Selma & Stanley Riegler

Very enjoyable morning, beautiful display and well organized.

Judy Robbins