The Staffordshire Potteries
Many of the exhibits at WMODA come from the county of North Staffordshire in the heart of England. From the mid 17th century, local clay, salt, lead, and an abundance of coal were the natural resources used to produce pottery on an industrial scale. To transport raw materials and finished products from the heart of England, a canal system was constructed to link the the six Potteries towns to the English sea ports via the Rivers Trent and Mersey. The Potteries towns - Stoke, Burslem, Hanley, Longton, Tunstall and Fenton - became the city of Stoke-on-Trent in 1910.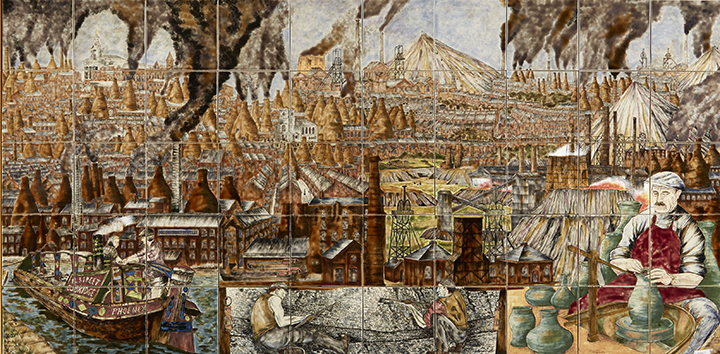 The tile panel above shows the Staffordshire Potteries in prosperous times around 1900. Working potters lived in modest streets of terrace houses among thousands of bottle kilns which dominated the skyline of the Potteries towns. The potter at the right of the tile panel is throwing a vase of clay, an early part of the production process which includes decorating, glazing and firing. The development of slip-casting, pouring liquid clay into plaster of Paris molds, led to an acceleration of factory production in the 18th century. By the 1950s, coal firing had been replaced with gas and electricity and the remaining bottle kilns are preserved today at museums and heritage centers. The tile mural was designed by Philip Gibson to mark the new Millennium and it is one of only two in the world.
Bottle kilns firing in Stoke-on-Trent

Bottle kilns beside the canal

Loading a bottle kiln with saggars

Placing saggars inside the bottle kiln
Tableware for domestic use was produced in stoneware and lead-glazed earthenware by hundreds of little potteries in Staffordshire. Superior white-firing clays were shipped from Cornwall and experiments by enterprising potters fueled an explosion of new styles in tableware and ornaments, many of which were exported to Colonial America.
Tea and coffee pots were much in demand for the fashionable new beverages of the 18th century. Toby jugs, used for topping up tankards of ale, were modeled in the form of traditional drinking characters as well as popular personalities of the day. Figurative ornaments portraying contemporary celebrities were made in simple plaster of Paris molds and painted by women and children.
Staffordshire Royal Lion by Walton c.1820

Staffordshire Prince of Wales c.1860

Staffordshire Creamware Teapot c.1780

Staffordshire George Whitfield Toby Jug c.1820

Staffordshire Billy Walters c.1880
Pottery ornaments were once sold on the streets of London by "Image" men. On their heads, they balanced boards full of Staffordshire figures and busts, crying out on street corners to attract passing trade. Invariably accidents happened! "Images very cheap-very fine" was their rallying cry as they hawked earthenware statues featuring the hot news of the day. Celebrities included members of the royal family, famous actors, military heroes and even notorious criminals. Nostalgic pastoral scenes, domestic pursuits and animals were also very popular subjects in the newly industrialized towns and cities. Staffordshire teapots, jugs, cups and plates were sold at street markets or bartered door to door in exchange for old clothes. Josiah Wedgwood offered a more elegant shopping experience for affluent society ladies with his London showroom.
Image Seller in Trafalgar Square, London

Image Seller 1815

Staffordshire Ware Vendor

Wedgwood Showrooms 1809